SUDO SOUND: Peaky Beats, Fonzo, Delta b2b Goosensei, EF KIA & Rivibes.
"Big up the Leeds crew! It's a Peaky Beats showcase promising Wednesday night Garage / Bassline / Jungle madness; twisting the 2-step shuffle into unholy forms with the help of Fonzo, Delta, and EF KIA."
- Headfirst
We're getting into the habit now of selling out these Wednesday parties, this one was no different. Peaky Beats on a huge 130 - 140 set was a vibe, Fonzo came through with his unique UKG selections and ramped up the tempo for the close.
Thanks to all the artists that smashed this one. Check back here to be the first to find out about new events + releases.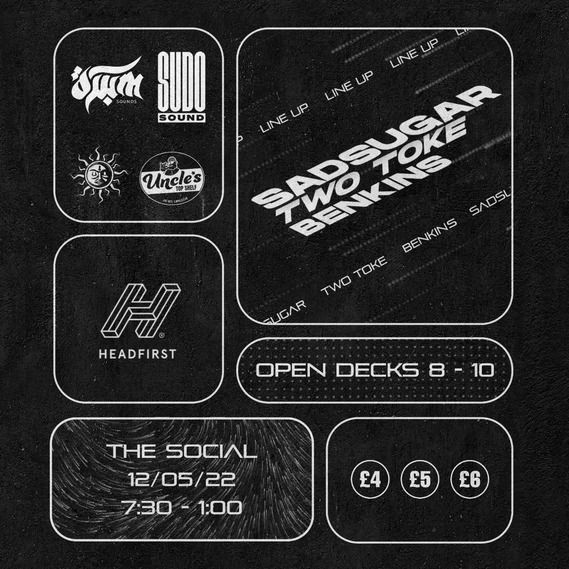 OWM X SUDO
After our first sold out linkup with OWM Sounds we would be silly not to do it again. This time we brought down Bristol's own, SadSugar; supported by Two Toke & Benkins. Always vibes in The Social, head over to our gallery to find the full photo drop.
SADSUGAR
TWO TOKE
BENKINS


Halloween is upon us once more and this year we're throwing a spooky shubz to celebrate...
Join us in the dance in an exclusive and rarely used event space in the heart of Stokes Croft for a night of 130 - 140, UK Bass, Dubstep, Breaks, Broken Techno + much more.
A multi-genre affair, we're bringing some of Bristols most exciting artists to the jungle that is Jamaica Street Stores.
A-Z

BEANZO
DELTA
FKHIA
KAHTER
KHANUM
LOTU
MARTIAN
MINTY
OJ
OZ
YUSHNONA


Anyone who came down to our last two link-ups knows the deal, eclectic underground bass selections from some of the UK's best artists.

This time we bring L-Major down to The Crofters Rights for a full force Breaks set. Supporting him will be one of Brighton's best Jungle selectors Josie Bee, Pondlife Party and Simply Deep regular Kontent and Sudo Sound & SND SYTM CLTR's Knights.
L MAJOR
KONTENT
JOSIE BEE
KNIGHTS
Our last few link ups have sold out, so make sure to get tickets to avoid disappointment!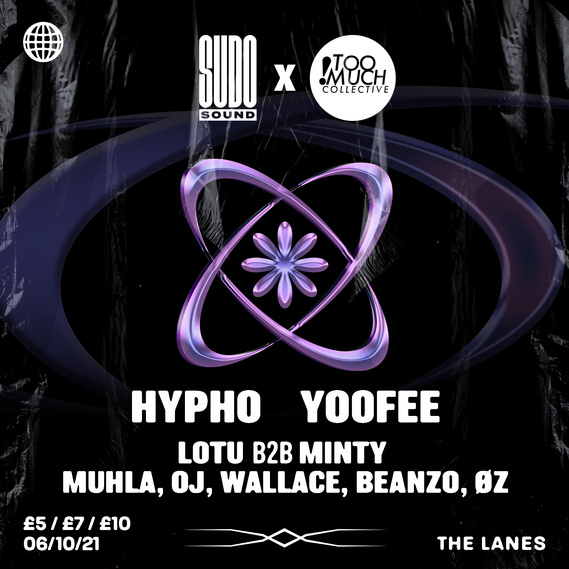 SUDO SOUND x Too Much Collective
HYPHO / YOOFEE + Support
We're joining Bristol heavyweights Too Much Collective down at The Lanes on the 6th October, supplying bass-heavy grooves from some of the best players in the game right now, this isn't one to sleep on.

Our headliner really needs no introduction; this Swamp81 heavyweight and Manuka Records head-honcho has been making some of the tightest and exciting releases within the UK electronic bass music scene for years now. Welcoming him back to Bristol for his first set here in over a year and a half, his vast selections delve into 140, UK Bass, Broken Techno, UKG and much more with a stack of dubs ready for action.

We're very lucky to have the opportunity to welcome Yoofee for his long-awaited Bristol debut, coming all the way from Berlin to supply his eclectic rhythms and weighty grooves to the party. This exclusive set from the White Peach Records and Locus Sound regular won't be one to miss.
Joining our two headliners are a selection of residents representing both labels, expect some exciting journeys through 140, UK Bass, Dubstep + much more.
Omertà Records x Sudo Sound - Take 5 Takeover
Omertà Records and Sudo Sound return for another link-up after the sell out show at Crofters last month.

This time we're heading down to Take 5 Cafe for a night of crafted 140, Breaks and Jungle.
Head of the Mangoes + Melons & Kiwis + Coconuts label imprints, the SWU.FM radio host will bring a wide range of Jungle influenced heat to mash down a dance
ANAIS
Fast rising Bristol star Anais takes a step away form her usual DNB madness to bless us with some carefully designed Breaks and Jungle
WALLACE
Head man of the SUDO SOUND label, Wallace's big bag of dubs will never fail to disappoint. Deep dark and percussive blends from Dubstep to Breaks
FKHIA
The Italian music producer started producing in 2018, exploring genres such as trap and drill, and discovered her love for dubstep in 2020. She provides sets that blend original dubstep with contemporary representatives of the 140 genre
Sudo Sound x Omertà Records: Sepia + Support
Sudo Sound & Omertà Records are teaming up to bring together a carefully curated lineup of 140, Dub, UK Bass, Breaks and more. The two labels will be showcasing an array of selectors from each label, alongside some special headliners.
More info on the event page.
SEPIA
ARCANE
PANICMAN
USURPER
WALLACE
KAVI
Hosted by Rivibes




Tickets
£3 / 5 - Buy here
Venue
Date
11 / 08 / 21